New for 2018!
Rome, Athens and the Eastern Mediterranean
June 5-17, 2018
Quick Links
---
Itinerary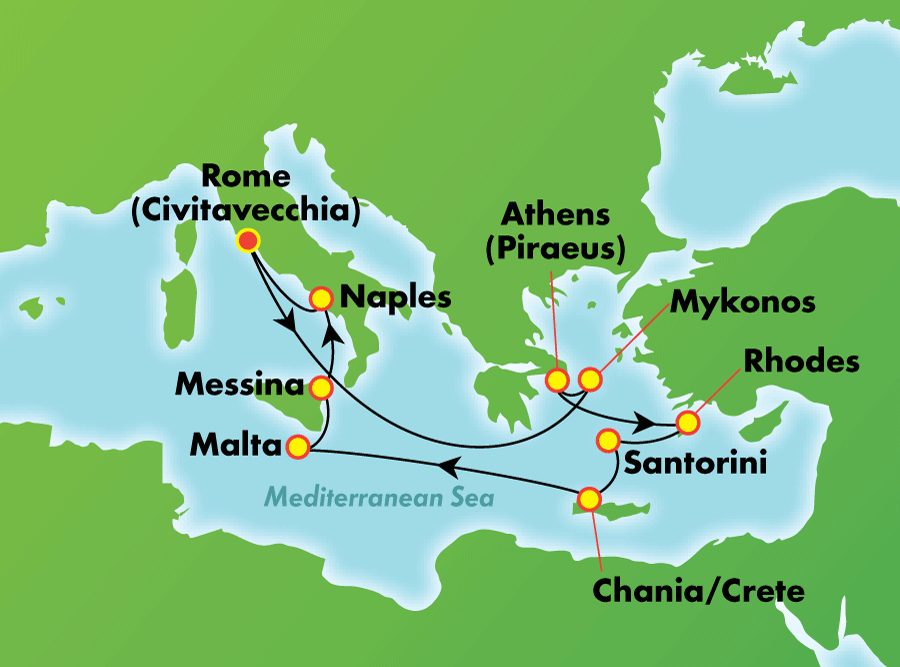 Day 1 – Tue, June 5, 2018
Arrive in Rome
Fly into Rome.  You can arrange your flights with our agent, Jim Pierce, 800-795-1633.  (If you wish to arrive earlier and spend a few more days in Rome, Jim can help with that too.)  Upon arrival at Rome airport, transfer on your own to our hotel, the Massimo d'Azeglio.  It has a 4-star rating on TripAdvisor.  We will give you tips on transportation from the airport.  Group meeting that night, and maybe dancing!
Day 2 – Wed, June 6
Rome
Breakfast at hotel.  Tour the Coliseum [below], ancient Palatine Hill overlooking Circus Maximus and the Imperial Palace, and the Roman Forum.  Remainder of the day at leisure.  Lunch and dinner on your own.  Dancing in the evening. (B)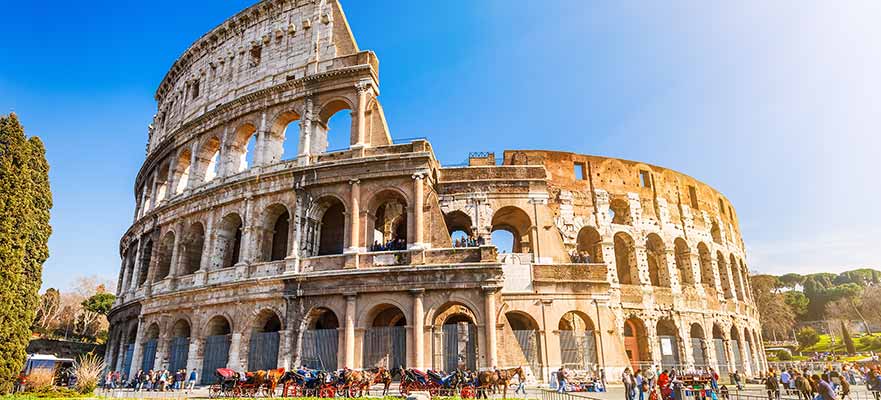 Day 3 – Thu, June 7
Rome – Vatican – Civitavecchia
Breakfast at hotel.  Visit the Vatican Museums with impressive Sistine Chapel and grand St. Peter's Basilica. Lunch on your own.  Afterwards, bus transfer to ship Norwegian Spirit in Civitavecchia. Ship departs at 5:00 p.m.  Dinner on board.  (B, D)
Day 4 – Fri, June 8
At Sea
In addition to our three meals and exploring our floating hotel, we'll be folk dancing.  In fact, we have a room reserved for dancing on the ship every night of the cruise!
Day 5 – Sat, June 9
Mykonos
Our first stop is the Greek island and city of Mykonos.  We'll take a 2-1/2 hour walking tour of the town, through narrow streets to the Aegean Maritime Museum, finishing with a sampling of mezedes (Greek tapas) and ouzo.
https://en.wikipedia.org/wiki/Mykonos
Day 6 – Sun, June 10
Athens
Today is a full-day bus and walking tour of Athens and its scenic coast.  We'll climb to the top of the Acropolis [below] and take a drive to many of the city's other highlights. After the included lunch, we'll travel along the coast, culminating in the Temple of Poseidon.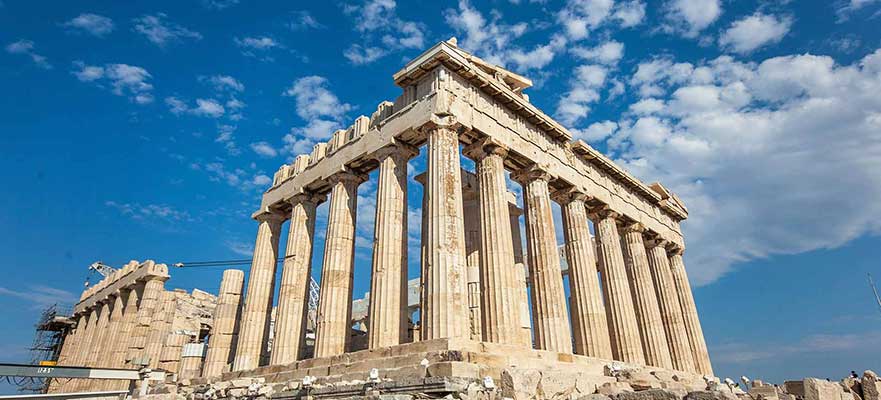 Day 7 – Mon, June 11
Rhodes
The Greek island and city of Rhodes is off the coast of Turkey.  The ship docks just five minutes from the town, so there's no scheduled excursion for us (although a la carte excursions may be available through the ship). The medieval Old Town is a UNESCO World Heritage Site.
https://en.wikipedia.org/wiki/Rhodes
Day 8 – Tue, June 12
Santorini
If this is Tuesday, it must be Santorini!  This Greek island/city perches on what land was left after the Great Minoan volcanic eruption 3,000 year ago. We will take a 5-1/2 hour bus and walking tour, starting with the highest town on the island, where you can take in the immensity of the caldera. After a visit to another village, we'll have an included lunch with food, drink, music and dance – opa!
https://en.wikipedia.org/wiki/Santorini
Day 9 – Wed, June 13
Crete
We dock at the port of Chania, where we'll take a 3-1/2 hour bus/walking tour of the town and learn about the history of Crete, a destination for many conquerors.
https://en.wikipedia.org/wiki/Chania
Day 10 – Thu, June 14
Malta
We dock at Valletta, the capital of the Republic of Malta. On our mostly walking 5-hour tour of the city, we'll see the Upper Barracca Gardens, St. John's Co-Cathedral (home to the Knights of Malta), and the Magistral Palace, before driving to the village of Mdina for a look at the countryside.
https://en.wikipedia.org/wiki/Malta
Day 11 – Fri, June 15
Sicily
Sicily is the largest island in the Mediterranean, and the home of the volatile Mt. Etna.  We'll dock at Messina and from there take a tour of the enchanting medieval town of Taormina [below].
https://en.wikipedia.org/wiki/Taormina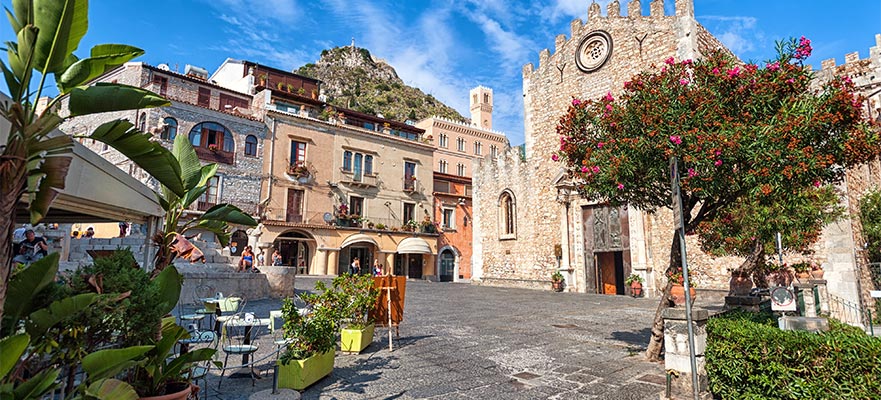 Day 12 – Sat, June 16
Naples/Pompeii
On our last day, we'll take an all-day bus and walking excursion, starting with a drive around the Bay of Naples and ending up in Sorrento for lunch (cost not included) and a visit to a woodworking shop.  We'll finish up with a walk through legendary Pompeii, a city remarkably preserved under deadly volcanic ash in 79 A.D.
Day 13 – Sun, June 17
Civitavecchia – Rome
Ship docks at 6:00 a.m.  After breakfast we'll disembark and take a chartered bus to the Rome airport.
What's included:
All breakfasts in Rome
Three meals a day once we board the ship
Nine guided excursions:
City of Rome
Vatican City
Mykonos
Athens
Santorini Island
Crete
Valletta and Mdina
Taormina
Pompeii and Sorrento
Transfer from ship to Rome airport
Port taxes
What's not included:
Transportation from Rome airport to hotel
Tips ($14 a day on the ship)
---
Our Ship – The Norwegian Spirit
Yes, the Norwegian Spirit is a big ship!  We always said the river boats can go places the big ships can't, but when Marija had a hankering to see the Greek isles, it turns out the reverse is also true: the big ships can go places the river boats can't.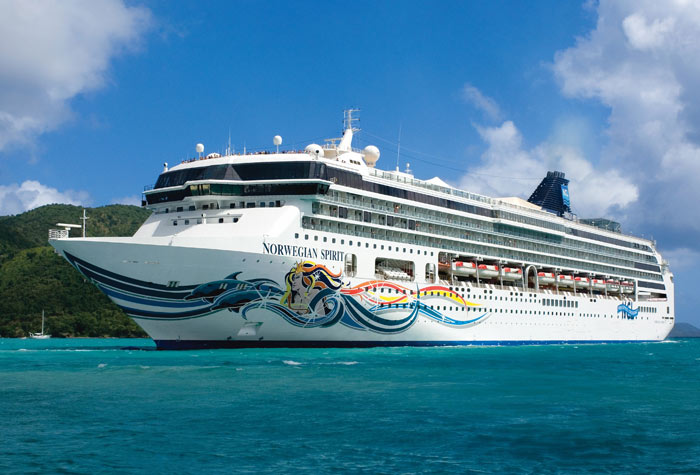 What we lose in intimacy we gain in amenities.  For one thing, we will have a dedicated meeting room we can have daily dancing in each evening.  It's carpeted, not wooden, but it will be an improvement over dancing on indoor/outdoor carpet on the sundeck of a river boat.  There's a pool as well as hot tubs.  And while there are two main dining rooms we can reserve as a group, there are also four other choices for the included dining.
The Norwegian Spirit was built in 1998 but refurbished in 2017.  It holds 2,000 passengers and has a crew of over 900 to serve them.  
For a detailed look at the cabins, see Cabin & Prices.
---
Cabins & Prices
The prices include the entire trip as outlined in our Itinerary, including the pre-cruise stay in Rome.
All prices are per person (and are based on double occupancy).  We have three levels of pricing, based on cabin choice:
1. Category 1B – $3,285
These staterooms (149/sf) come with two lower beds that convert into a queen-size

bed and additional bedding to sleep up to two more. Because these are mid-ship staterooms and located on higher decks, you'll have easy access to everything on board.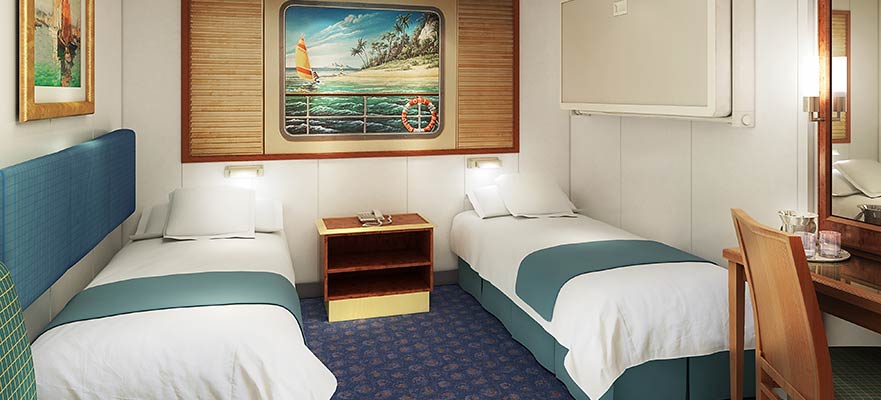 2. Category OA – $3,595
These staterooms (157/sf) can accommodate up to 

three guests and come with two lower beds that convert into a queen-size bed and additional bedding to accommodate one more. You'll also have a big picture window to enjoy the Mediterranean view.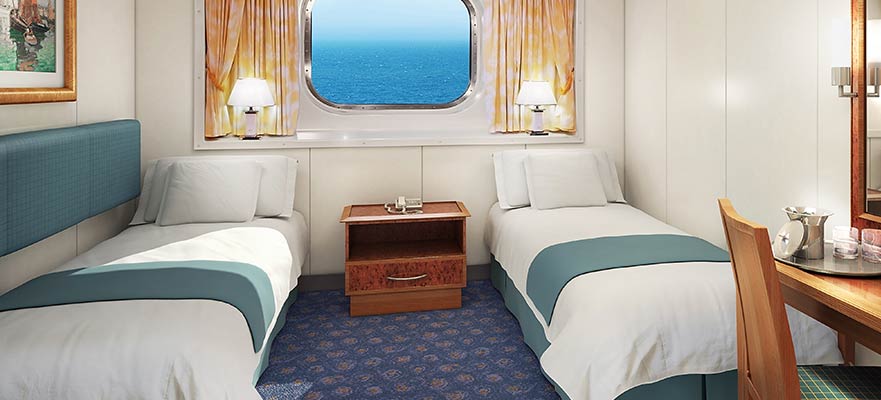 3. Category BD – $4,165  Our initial allotment of BD cabins is sold out.  Current prices are higher and fluctuating, currently around $5,165.  Please contact us for an up-to-date quote.
These staterooms (160/sf) have two lower beds that convert into a queen-size bed and a pull out sofa to accommodate one more, along with a sitting area, floor-to-ceiling glass doors and a private balcony (40/sf) with an amazing view.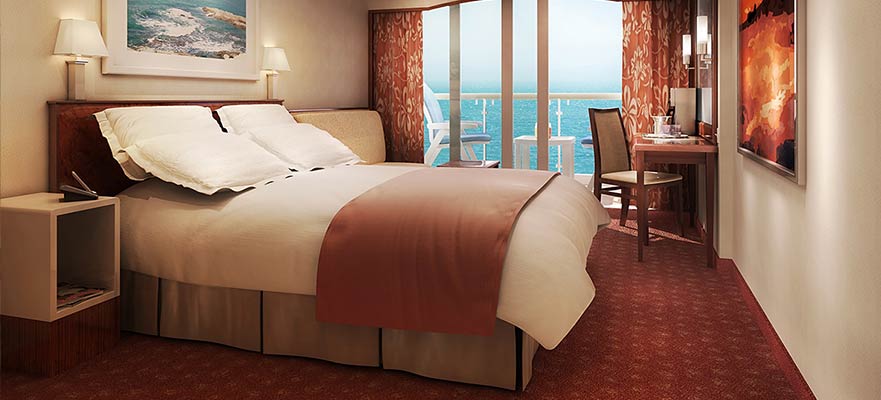 A third person in a stateroom costs $625 (plus a smaller, undetermined amount for the Rome hotel).
Single Supplement
A single supplement on this ship comes very close to 100%, so we'd like to encourage anyone travelling single to find a friend to come along with you.  We will try to match singles that register with us, but there is no guarantee.
Amenities
Each cabin booking gets to pick two amenities from this list:
Ultimate Beverage Package – 1st and 2nd guests only
includes a variety of spirits, cocktails, wine by the glass and beer (provided no item costs more than $15) anytime onboard.  Unlimited non-alcoholic beverages as well.
Prepaid Service Charges (tips) – 1st and 2nd guests only (otherwise, $14 per day on cruise, or $140)
Internet Package – per cabin (otherwise $125 for 250 minutes)
$50 Per Port Short Excursion Credit – per cabin – max of 4 ports  (value $200 per cabin)
Dining Package – 1st and 2nd guests only
Your choice of five meals in the ship's "specialty" restaurants
20 Photo Package – per cabin (Psst!  Bring your camera and we'll take pictures of you!)
$75 On Board Credit – per cabin (not a great value compared to the other amenities)
You don't have to be decided which amenities you want until your final payment is due.
Payments
A deposit of $500 is due with your Registration.  You will be asked to pay the balance of your cruise in early February 2018.
---
Registration
To register, please fill out and send us our Rome Registration Form OR contact us at:
Dance on the Water
2147 Parker Street
Berkeley, CA 94704
David & Marija Hillis
Phone: 510-549-0337
FAX: 510-549-0333
Email: folkdanceonthewater@gmail.com
Trip Insurance
If you would like to purchase trip insurance, please follow the directions on our Trip Insurance page.